How would you like to win this framed piece of art (worth $350)!? My best friends and owners of Matage Custom Framing are holding a contest to give it away! Go HERE to check out the details of the contest. The painting is called "Mary's Heart" it is absolutely beautiful! The winner will be chosen at the end of May.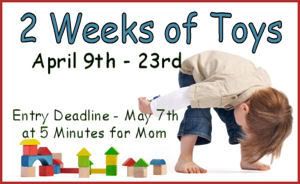 For the past two weeks 5 Minutes For Mom has been highlighting a TON of different 'toys' for kids. The details of the contest can be found here. The deadline to enter is on May 7th! Good luck! I hope to win the Exersaucer and/or BebePod Plus. Caden has his eye on the LEGO City Police Headquarters. There are lots of others that I have my eye on too...heres to hoping! Winners will be announce on May 9th!


Recently Julie had a contest for a purse pal. I never got around to entering the contest :(, but I thought that the product was so cool that I thought I should still mention it. It is a cute little portable hook for your purse! That means that there is no more putting your purse on the yucky floor at at restaurant! I might just have to buy one myself. I also think it makes a great, and unique type of gift!