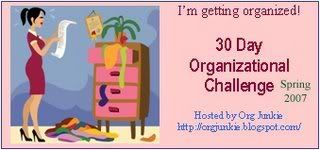 When I saw
this
challenge over at
I'm an Organizing Junkie
. I knew exactly what I was going to do. Little did I know that the prizes would be incredible too. I don't even care if I win...the best prize will be having an organized room! I am so thankful to
Laura
for hosting this...it is just the motivation that I needed! Thank you! When I started blogging I had come across the Tackle it Tuesday's hosted by 5 minutes for Mom. I enjoy participating in those because it helps me get things accomplished. After the first one that I did, my husband kept asking when I was going to do the storage room for one of my tackles. I would just laugh, and say that I would get to it someday.

Now is that someday. I think that I kept putting it off because there was no way in my mind that I would be able to accomplish it in one day. This room has become an ultimate nightmare that honestly I would like to forget. In fact, from the looks of it...you can see I have. When we first bought our house 4 years ago we thought this room would be fantastic. We loved the storage. To give a better explanation...the previous owner had opted for the third bay of the garage to be enclosed and is now an air conditioned storage/workrooom. So keep in mind, this room is huge. It can fit a whole car in it plus extra space. Over time it has accumulated so much stuff it is incredible.
My sister gives me all of the clothes that her children grows out of. For a while I had done really well at keeping it organized. I had tubs, all labeled with the size and gender. Then I ran out of tubs and just began to throw the bags of clothing that she gave me in the room and shut the door. We never go in there so it is easy to do. Anything that I don't need to use at the precise moment gets tossed in here to be dealt with later. The key word is LATER, and later never comes. This is also where we try to keep our tools. The previous owner even put up a nifty board on the wall to get things organized yet we haven't utilized it like we should.
Laura had us ask ourselves a couple of
questions
.
What do I want the purpose of the room to be?

I would like to make this a more functional storage area. Right now I can't find anything in there without making a bigger mess because nothing really has its place. I want to be able to go in there an know exactly where to look for something.

What do I need in or near the room to serve that purpose?

I think that I need to first declutter and then properly label things so they are more easily accessible.

What can I remove from the room?

I think there is plenty that I can get rid of. Because it is so much extra space I think we tend to save more because there is "room" for it. I would like to purge as much as I can and only keep things that I know I will use through out the year.

What problems do I see with the room?

There is really no system or anything really working in this room. Things are everywhere. I couldn't find something if I wanted too!

What organizational tools might solve this problem?

Containers and labeling!

What habits need to change in order to solve the organizational problem?

I think the biggest problem is the "I will get to it later" mentality. I need to put things away right then! Not just toss it in the room and shut the door.

What kind of budget do I have to create the organized room of my dreams?

I would like to be able to do this with as little money as possible. I would think if anything I wouldn't have to spend more than $100, but I hope to not even spend that. (My husband would like that too.)

What kind of timeline is necessary to organize the room?

I think that if I spend 30 minutes on it a day I should be able to have it done by the end of the month...if not sooner.

What is my plan of action?
My Plan of Action
Declutter the area: go through everything and decide what I do and do not need
Containerize: find the right size and amount of containers I will need to make the space functional
Label: So that I know what is in each container, duh!
Prioritize: Make sure I spend atleast 30 minutes a day working on the project!
Who can I ask to help me with this?

The only person that I would dare ask is my husband, but I hope to be able to work on this during the day while he is at work.
So here is the beginning of the challenge. I am now cringing at the thought of posting the before pictures that I have, but here they are...try not to think too bad of me. I am putting it in the smallest size possible...brace yourself if you are brave enough to click on the picture to enlarge it.