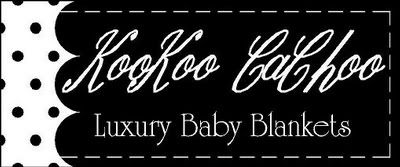 Have you ever found yourself wandering the aisles at Target trying to choose something to give to that friend of yours who is slowing growing a baby in her belly. I know that I have. I love all the cute clothes, but there is a part of me that wants to give something that will last. Something that the baby will cherish, that won't be put in storage within a few weeks of wearing, and will remind them of me whenever they use it.
My cousin, Karma, helped to solve that problem. When she started having kids, she began fiddling around with different designs for blankets. She wanted something that her girls could cuddle up to. Something that was soft, smooth, and silky....but not heavy. She finally came up with a pattern, and stuck with it. Her daughters loved her blankets so much, Karma figured that her friends would too. She would make them for shower gifts and close friends. Before you knew it, people left and right were asking for her blankets.
That is when KooKoo CaChoo was born. I know that she is my cousin, so I may be biased, but these are some of the cutest, and best blankets that I have ever laid eyes or should I say hands on. She takes much care into making sure they are the highest quality fabrics, and they are sewed to last! I just had her make me one for Sydney, and that girl has fallen in love. These blankets truly are a keepsake, and something that your child or friends child will treasure forever.
So do me a favor, and go check out the unique designs that Karma has come up with. She also makes matching burp cloths! If you look through her designs, and still haven't found one you wanted she even does custom orders. She really makes the effort to help you be satisfied. I promise that you will not be dissapointed! I also added her button to my sidebar so that you will always be able to find it. And if you are looking for great jewelry...don't forget about Beauty Queen Boutique!